We are thrilled to announce that our recreation gymnastics classes are back.
Starting from Monday 7th September our Foundation, Advanced and High Flyers classes return for a full 9 week block.
We have been emailing our recreation members with details of how to book onto a class. Please let us know if you have changed email address in the last few months or haven't received an email from us.
To request a place in one of our recreational classes please visit our Online Booking Page to submit a booking request. If you have any questions please get in touch and we will be happy to help.
As places in these classes are limited we advise you to get in touch early as any free places will be filled on a first come, first served basis.
Our class times have changed slightly to accommodate the new regulations that all indoor sports clubs must follow to ensure all users of the centre are kept safe.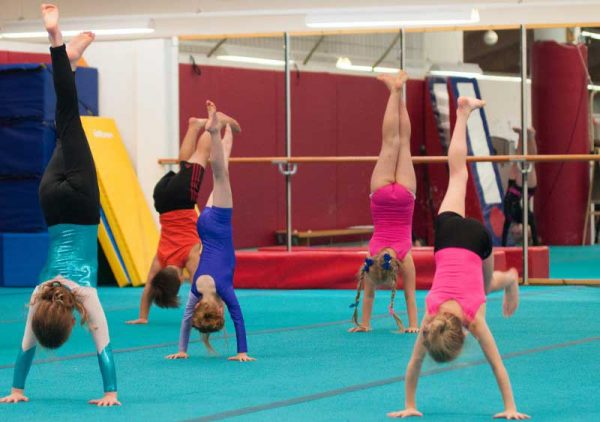 Please see our Gym Safe policy for information about measures we're taking to protect our members.
Our gymnastics classes are carefully set up to provide excellent learning and training situations within our safe, clean environment. With 2 well sized gymnastics halls we are one of the biggest gymnastics clubs in the UK able to provide plenty of space for every gymnast and the freedom to learn at their own pace. Our expert coaches have been trained in teaching methods to enhance the fun and effectiveness of gymnastics skill learning with safe social distancing and equipment use in mind.
When you visit the centre you will notice some changes we have put in place. These include: –
Staggered entry and exit times [Important- please arrive 15 minutes before your class starts]
Reduced numbers of people in the building at the same time [All groups will work in their own area]
Entry restrictions for non-participants [Only gymnasts will be allowed beyond the entrance foyer]
Attendance requirements – gymnasts must arrive ready to train [No changing facilities, no tuck shop in operation]
Drop off and pick up procedures – separate entrance and exit doors in use [One parent maximum dropping off their child please]
Hand hygiene stations throughout the building
Frequent cleaning of surfaces and equipment
Fully checked and maintained fresh air ventilation system
Open doors in transit areas / one in – one out use of toilets / child friendly signs and posters
On-site welfare officer and trained first-aider at all times (as normal)
As you can imagine the new procedures are keeping staff on their toes but we are well trained and are ready to adapt as needed. Please help us to maintain a safe environment for all by reading and following our guidelines and procedures. Especially regarding attendance times and preparing your child to play their part in learning our Gym Safe processes – such as hand hygiene, using the physical distancing markers, avoiding physical contact (high fives etc), keeping their belongings in their bag etc. Once learned this new system is easy to follow and the children attending the summer camps have had a great time training with no issues.