We're nearing the end of our current block of classes, so here's some items to make note of and activities that your child has to look forward to in the lead up to Christmas.
Priority Rebooking
First up, priority rebooking for the next block started Saturday 19th October, this will end Friday 1st November. To ensure your child's space for the new set of classes you will need to rebook within this period. There's lots of exciting stuff coming up for our recreation gymnasts, so make sure you don't miss out!
The new block starts Saturday 9th November and ends Friday 24th January. Please note the gym will be closed for Christmas Saturday 21st December – Friday 3rd January.
Half Term Classes
We are currently underway with our 2 weeks of half term classes. There are still some spaces available for this week and next, so if you're looking for something to get your child up and active over the school break look no further. For further details please see the poster below.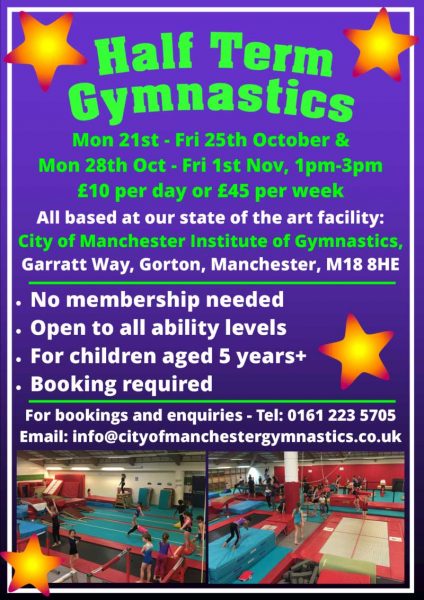 High Flyers Competition

Our High Flyers competition will be taking place on the afternoon of Sunday 24th November. This is open to all gymnasts in our High Flyer classes. The competition is a great opportunity for our recreation children to showcase their skills, and for our parents to see some incredible talent on what is always a fun-filled afternoon! Registration will be opening very soon, so please keep a look out for any notices regarding this.
Advanced level Assessments

Our Advanced gymnasts will also be putting their skills to the test, as they work towards their in-class assessment. They will be given a short floor routine and a vault to practice for a couple of weeks, before being graded towards the end of the block. It's a great way for our Advanced gymnasts to put together all of the skills they have learnt and look at ways they can improve going forward.
Foundation Gymnasts continue BG Badge Scheme

Our Foundation gymnasts will continue to make progress with the British Gymnastics Awards. Assessments will be made throughout the block, so attendance is key to ensure your child does not miss out on reaching that next level.