Booking is now open for our 2020 Christmas Holiday Club. We are running daily camps in the afternoons in addition to our usual classes.
Simply head on over to our online booking page to join in with all the games, activities, challenges and of course all the gymnastics practice on offer.
Our Christmas Holiday Club runs throughout the festive period on all the days that we are open and children do not need to be a member of the club to attend. The camp dates are listed below and places can only be secured by completing this booking process. You can attend as many days as you wish (subject to availability, which is on a first come first served basis). Each camp runs for 2 hours and is packed full of gymnastics training along with lots of fun activities and challenges to keep you active, all of which are carefully planned out with our Gym Safe policy in mind to keep everyone safe.
December, 2020
21st
Mon

 1pm – 3pm

22nd
Tue

 1pm – 3pm

23rd
Wed

 1pm – 3pm

27th
Sun

 2pm – 4pm

28th
Mon

 1pm – 3pm

29th
Tue

 1pm – 3pm

30th
Wed

 1pm – 3pm

January, 2021
2nd
Sat

 3pm – 5pm

3rd
Sun

 2pm – 4pm
Please note the specific camp times as these are different on the Saturday (3pm-5pm) and Sundays (2pm-4pm). The weekday camps (Monday to Friday) are from 1pm to 3pm each day. Children must be 5 years or over and will be organised by age and ability once safely within the centre.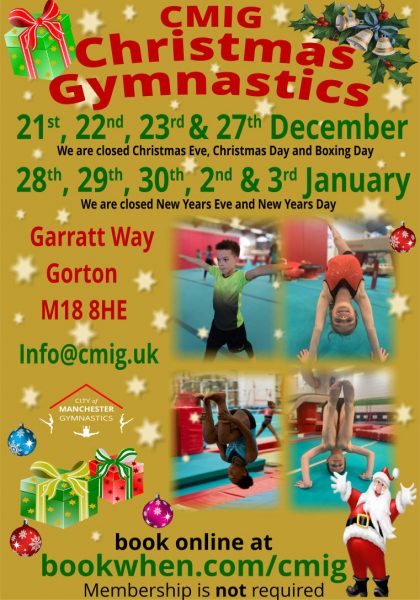 Your child can be enrolled on as many camps as you wish simply by purchasing a ticket for each day you wish to join. Please note that by booking onto a session you give the club your permission to provide your personal details (names and contact numbers) to the NHS Test and Trace service if required.