Elliott has just finished competing in his second Bundesliga – South league 2 (an annual professional league based in Germany), and has had a fantastic experience.
Last year Elliott and his team, TG Hanauerland, conquered the 3rd league earning promotion into the 2nd league for this year's competition. Being in a new class of competition the team knew it would be difficult to progress up the table this year. They entered the first stage against a very strong team (TV Schiltach VEGA TT), who were sitting at the top of the league. TG Hanauerland battled hard, facing a strong opposition including 2012-2016 Olympian, Oleg Stepko. TG Hanauerland lost the round, but gained more points than was expected. Elliott scored the majority of the points for his team on this weekend, as well as setting a new personal best.
The rules of the competition are fairly straightforward. Teams pick individual gymnasts to go head to head against with each other on every piece of apparatus. The highest scorer gains points for their team in order to win each competition and progress to the next round.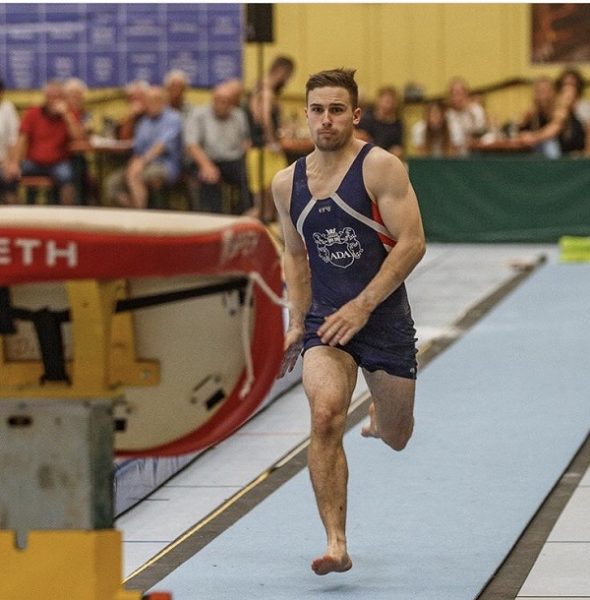 In the second match TG Hanauerland were up against mid league team TG Allgäu. After a 4 and a half hour drive to the South German hills, the team was tired but ready to compete. TG Hanauerland started well and kept the opposing team at bay, with Elliott performing well across all pieces, including winning a head to head battle against TG Allgäu's best rings worker. Although TG Hanauerland lost the match it was a very close competition and Elliott managed to set another PB.
On the final weekend TG Hanauerland was against another mid table team called TSV Monheim. After the first 2 competitions TG Hanauerland felt they stood a good chance to winning, also with it being a home match the crowd was fully behind the team. Elliott's team started strong winning the first 3 pieces and gaining a good lead.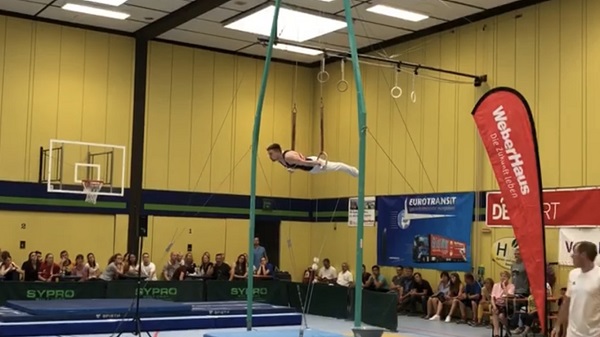 By half time the other team was getting frustrated, aware that they needed some points. However TG Hanauerland continued to perform strong and managed to extend their lead on vault. Knowing that TSV Monheim were very strong on P-bars and high bar, TG Hanauerland needed to continue their current standard of performance, which they did, and made it through their routines very cleanly.
Finally the last piece came and Elliott was asked to go first to secure the win on high bar as his team knew this was a piece where he was very consistent and able to accomplish a great routine. Elliott got up and performed the best routine he had done throughout the league, and with it sealed the victory for his team as well as gaining the title of Top Scorer.